Forget bitcoin and the metaverse… even tech firms more generally have had a tough time of it over the last 18 months. But 2023 is surely the year where AI, artificial intelligence, has got real attention.  So should you be investing in artificial intelligence, and if so, how?
ChatGPT is just a start
What seems clear is that the pace of development of AI technology is about to kick off in a big way. The starting gun on this stage of growth in artificial intelligence was fired with the launch of ChatGPT on 30 November 2022.
ChatGPT is essentially a large computer which absorbs huge quantities of text and processes it (know as a large language model or LLM).  From all this text, it tries to order words in a natural way in response to questions typed in by users. It's part of a wider discipline called generative AI, which uses computers to create new content, including words, images, audio and video.
By January of this year, it had over 100 million users, according to UBS, the Swiss bank.  That rate is matched by the speed with which ChatGPT can provide answers to questions posed to it online.
That's already putting some businesses at significant financial risk.  For example, US online learning business Chegg, which provides answers to college-course questions, saw its shares plunge 48% last month after it reported a drop in subscribers following the release of ChatGPT.
We are at an early stage of understanding the applications of artificial intelligence as it is more widely adopted.  Large language models and generative AI are only a small part of what the technology will become capable of.  What's clear from Chegg's experience is that it can change things very quickly.
Is investing in AI intelligent?
For sure, there is a lot of excitement around AI just now.  But is investing in artificial intelligence worth it?  Backing the next big thing isn't a sure-fire way to make huge returns.
Just look at Meta, formerly Facebook.  It bet its future on the metaverse, rebranding itself and spending tens of billions of dollars developing augmented reality/ virtual reality and its Horizon technology platform.  That all sounds very 2021 now.
Even after doubling so far this year, Meta's share price is around 30% below its peak in September 2021.
The AI revolution raises bigger questions
While the technology is with us already, the moral thinking on AI is moving at a slower pace.  That led some leaders in the sector to call in an open letter in March for a six-month moratorium on the development of artificial intelligence, stating that AI leaders are:
"locked in an out-of-control race to develop and deploy ever more powerful digital minds that no one – not even their creators – can understand, predict, or reliably control".
You're probably already invested in AI
Building artificial intelligence technology is no minor investment.  Billions are being spent – so it's no surprise that many of the biggest technology firms are at the table. Unlike some areas of tech, this sector looks more difficult for the scrappy startup to crack. That may concentrate power amongst existing big tech.  It also makes it easier for investors to access.
Perhaps chief among them is Microsoft, which backed ChatGPT developer OpenAI with $1 billion in 2019, becoming its exclusive cloud computing partner in the process.  Microsoft followed its money with another sum in 2021, and a $10 billion commitment in January of this year.
Other major tech firms investing heavily in artificial intelligence include Google owner Alphabet, and chip makers Nvidia and TSMC for example.
If you own a balanced portfolio of equities, you almost certainly hold a stake in these firms already.
Dialling it up
If, however, you want to dial up your exposure further, aside from buying into the shares of AI-focused companies directly, some specialist funds are available to Ireland-based investors.  Here are three examples.
First is iShares Automation & Robotics, which goes by the excellent ticker name RBOT. RBOT is run by BlackRock, the world's biggest fund manager.
It's a big beast, with over $3 billion of assets. The fund holds 156 companies which "are generating significant revenues from specific sectors associated with the development of automatic and robotic technology". That means businesses like semiconductor maker Lattice, robotic surgical care leader Intuitive, which specialises in minimally invasive surgery, and engineering software company Bentley Systems.
The fund is up 122% in dollar terms since its launch less than 7 years ago.  But it's been a wild ride: last year it lost 34.2%, while this year it's up 17.6% as the chart shows.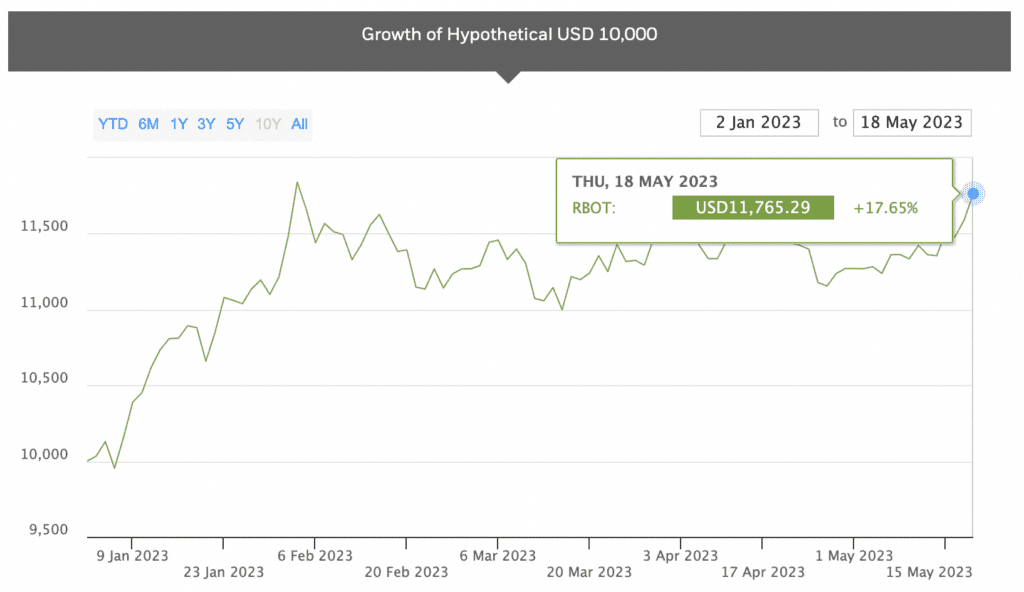 Source: BlackRock iShares
A second alternative is L&G's Artificial Intelligence ETF.  Its major holdings are perhaps a more recognisable list of mostly north American technology firms, like Microsoft, Amazon and Shopify.  Launched in June 2019, it is up 44.4% – but again that masks a 39.4% fall last year, before a 20.5% recovery so far this year.
And thirdly, investors could consider Polar Capital's Automation & Artificial Intelligence fund.  Unlike the previous two funds, this concentrated fund, with just 56 holdings, is actively managed rather than seeking to track an index.  That didn't prevent it recording a 33.5% loss in 2022.  But it is up a cumulative 57.3% since its launch in 2018.
This fund's holdings offer an insight into which businesses the managers see applying and exploiting artificial intelligence breakthroughs in the future.  Over 7% of the fund is in Microsoft shares.  But it's not all pure technology firms: there's oil and gas services provider Baker Hughes, Anglo-Dutch technical information and analystics firm RELX, and Japanese eye health and equipment business Hoya, for example.
Investing in artificial intelligence will be a bumpy ride
The volatile performances of all three funds suggests a key lesson for investing in AI: it could be suitable for a small portion of your portfolio. But a significant exposure will mean requiring to tolerate significant ups and downs as the path to integrating AI into businesses and daily lives gradually becomes clearer.