This guest blog comes from our friends at Greenman, the Dublin-based fund manager which specialises in managing funds that invest in food anchored-retail real estate in Europe, and has a steady track record of generating income for Irish investors.

Investment consultant Michael Irving explains Greenman OPEN fund's strategy, performance and outlook for 2021 and beyond.

If you're interested in investing in Greenman OPEN or other funds, you'll find lots more information in our Investment hub.
What's Greenman OPEN, and why should I invest?
Greenman OPEN is a property investment fund, focused on generating investment income from food and other essential retail.
Greenman Open focuses on converting rental income from grocery tenants such as Edeka, Rewe and Aldi, into investment income for the Irish market.
The fund targets an annual distribution of 5.5%, net of fees and charges.
The fund's retail centres in Germany account for over €1bn of grocery sales per year, equivalent to a 0.5% of the total market. The fund is now the largest food-focused fund in Germany.
Here's a snapshot of the fund: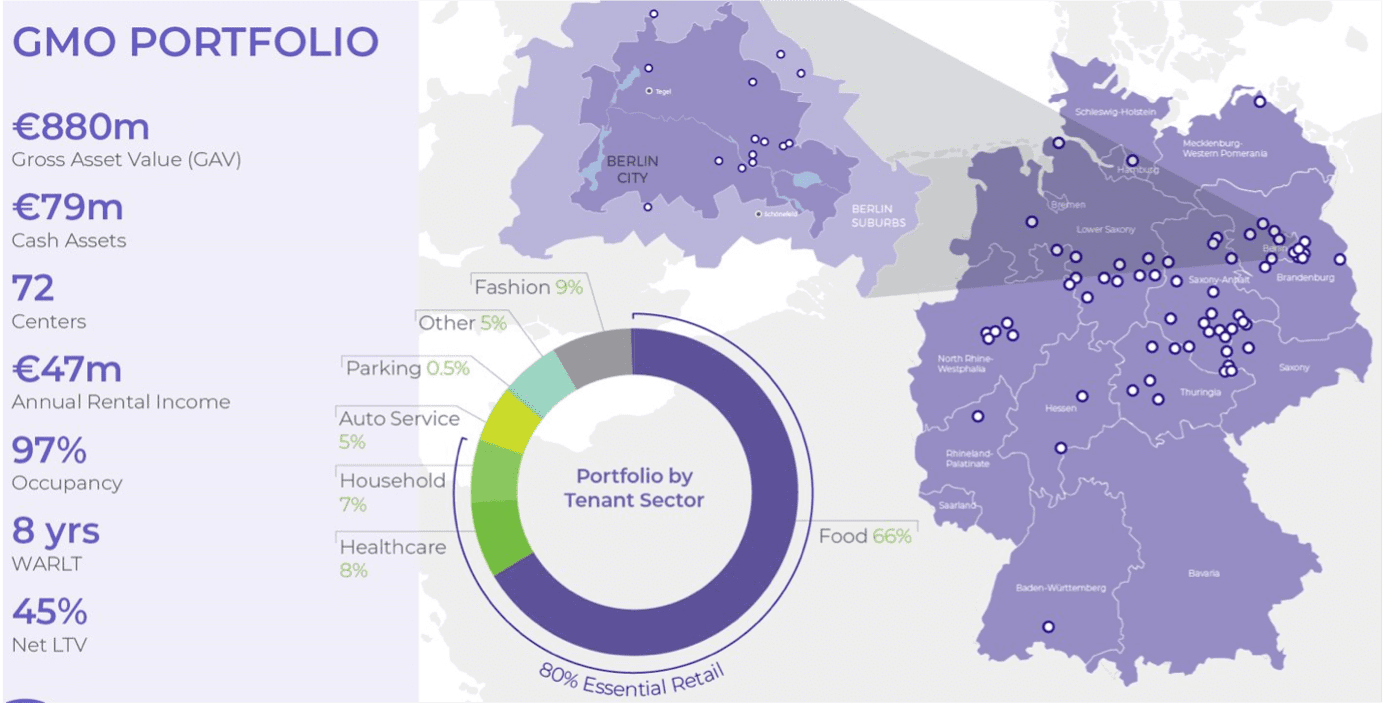 How did Greenman Open perform in 2020?
We have long been saying that there are 83 million people in Germany and they all need to eat, irrespective of what is going on with the world, economically or politically.
However, we never imagined that a global pandemic would substantiate that idea.
Our strategy of generating long-term consistent income from essential retail helped ensure that Greenman Open stood up extremely well to the new decade's unexpected stress-test, driven largely by:
1. Consistently high rent collection – Greenman Open collected 96% of rent due for the full year ensuring target quarterly distributions of 1% were met for the full year.
2. Stable asset valuations – 2020 saw increased demand for food retail assets, particularly in traditionally safe-haven investment locations like Germany. This investor appetite helped ensure that asset valuations have remained stable which in turn contributed to the stability of Greenman Open's NAV.
Having come through H1 2020 in such a strong position, from July we refocused our efforts by looking forward to the opportunities the new decade had to offer so that we can maximise value for our investors over the long term.
How are you building the portfolio?
We have entered into two agreements to acquire 10 retail assets worth €141m in off-market deals.
Vendors are keener than ever to partner with experienced purchasers and operators like Greenman who have the local expertise and infrastructure to underwrite new acquisitions quickly and efficiently.
This competitive advantage means access to a large pipeline of excellent food anchored retail assets during a time when we have all had to adapt to new ways of working.
How has the pandemic affected retail trends?
The pandemic has accelerated trends that were already developing in the retail sector.  We now have a clearer picture of what that future looks like, with click and collect and home delivery fulfilment services centred around existing supermarket locations.
This opens a lot of opportunities for us to engage with tenants as they adapt to evolving consumer habits and help future-proof our existing properties together.
Tell us about your '5 by 25' strategy
The digitalisation of retail is leading to opportunities for Greenman Open to diversify its income and generate returns for investors from non-rental income such as the sale of data to retailers and the supply of goods and/or services related to food retail to our tenants and customers.
The pandemic has convinced us now is the time to explore these opportunities, so we have set the target of generating 5% of Greenman Open's income from non-rental sources by 2025.
How can I access GMO?
Moneycube can offer access to the fund – as an investment or a pension – for lump sums from €15,000.
You can let us know your requirements here.