Going for gold is the 3,000-year-old investment strategy.  So is now the time for people in Ireland to invest in gold?
Gold has some characteristics that investors just can't ignore.  When governments print money, countries fight wars, or political uncertainty increases, share prices can come under pressure.
But demand for gold grows.
This is the scenario that is playing out in 2022.
Moneycube explains why you should consider investing in gold, how to do it, and how it should fit with your overall selection of investments.
Why invest in gold?
Gold is seen as a traditional defensive asset – defending the value of your savings against inflation and an uncertain future.
The gold price has spiked over 42% over the last month as geopolitical uncertainty has risen – and 51% over the last five years.
More generally, consumer demand for gold has increased over recent years as people in emerging economies become richer.  (Taken together, China and India consume around ten times more gold than the US each year).
And lastly, it's hard to make more gold.  Mining for gold is expensive and slow.
That combination of safety in a crisis, rising demand and the difficulty of increasing supply make gold an attractive asset for many investors.
So how do I invest in gold?
There are three main ways to gain investment exposure to gold.
Clearly, it's possible to purchase the element itself, usually in the form of gold bars.  But for most of us, this is impractical.
Above all, it creates a storage problem! It's unlikely to be covered by your home insurance, so you'll probably need to pay a bullion supplier to mind them for you.
Using a fund makes sense for most people
The easiest way to invest in gold is via a gold fund.  Such funds hold physical gold bars in secure vaults, and allocate some of that gold to you as an investor (typically using an exchange traded certificate from a reputable fund provider).
The value of your investment is directly connected to the price of gold, and is underpinned by the fund's direct ownership of the yellow stuff.
Using Moneycube, you can invest in gold funds – or simply funds that allocate some of your money to gold –  from as little as €250 per month.
Are there other ways to invest in gold?
The third principal way to gain exposure to the gold price is to focus on companies which have exposure to the gold price.  The share prices of gold miners are typically closely related to the price of gold.
But for investors who want a diversified, easy-to-manage portfolio, direct investment in gold miners is probably not the way forward.
Sounds great… should I invest now?
Investing in gold can certainly be a good way to protect your existing wealth.  But here at Moneycube, we believe it should only form a small part of most investors' portfolios, as part of a multi-asset investment strategy.
While gold has its benefits as a hedge against inflation and uncertainty, it's not without risk.
For one thing, the price of gold can go down as well as up.  In fact, overall the gold price has slipped, even as storm clouds gathered in the global economy.
For another, gold doesn't deliver the long-term growth opportunities that company shares can.
The chart below shows the price of gold in the ten years to February 2022.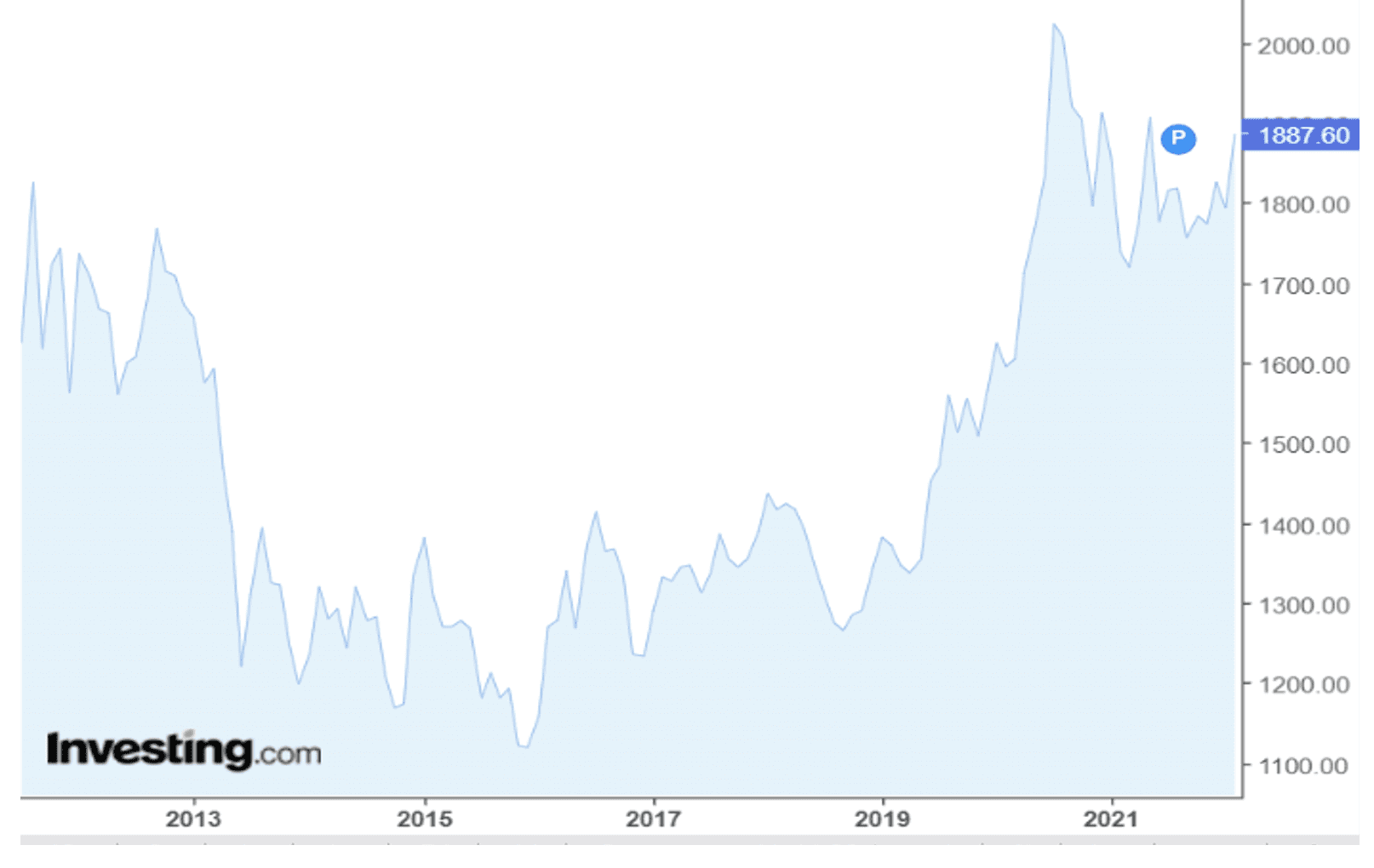 Gold was up only around 15% over this period – and had a fairly bumpy ride along the way.  Over the same time, the MSCI World Index, representing most of the listed company shares in the developed world, was up around 250%.
If growing your wealth is your aim, gaining exposure to a diverse range of company shares around the globe should be your focus.
A portion can be allocated to gold – and that can be done through a choice of multi-asset funds, or some carefully selected exchange traded certificates.