Jan 2023 update: Our more recent post highlights the best investment opportunities for your money in 2023.
Welcome to Moneycube's annual roundup of the best investments available in Ireland.
We've chosen five funds we think have strong potential for the new decade.
Despite choppy conditions in March 2020, whether you're a new investor, looking to invest a large lump sum, or seeking income from your investments, we've got a fund for you.
We've also crunched the numbers to identify our two favourite global equities funds for Ireland-based investors in 2020.
This might all sound great in theory, but how does it look in practice? We've taken a look at how €20,000 invested a year ago in our 2019 selections performed here.

In fact, you'll find there's a lot of continuity between our 2019 choices, and this year's. That's just as it should be, because investing's a long term game.

Remember, these funds are all available through our online platform, along with many more.  We can help you put in place lump sum and regular investments, big or small, to start growing your wealth today.
Best fund for new investors
Moneycube believes multi-asset funds should lie at the centre of most investors' portfolios.
Whether you are investing a lump sum, setting up a regular investment, or both, multi-asset funds are useful.   In a single fund, you can achieve the diversification, flexibility and balanced growth potential that most people need from their wealth.
For new investors, we're sticking with our 2018 and 2019 choice.  Zurich's Prisma 4 fund is a strong option for many new investors.  It gives exposure to a broad range of assets, split among equites (57%), bonds (26%), alternative assets (11%), and property (6%).
Prisma 4 is also spread over the globe.  60% of the fund is invested in the US and Canada, 21% in Europe, 9% in Japan, and 10% in Asia-Pacific and South America.
And importantly, it has a track record of decent returns. In 2019, it grew over 18%, as Zurich's fund managers played a smart game of switching in and out of equities and bonds during the year.
In the five years to 31 December 2019, this fund has returned more than 35% total growth as this chart shows.
In fact, Zurich Prisma 4's performance is better than the comparable fund from its competitors, Aviva, Irish Life, New Ireland, and Standard Life over the last three and the last five years.  Here's a comparison: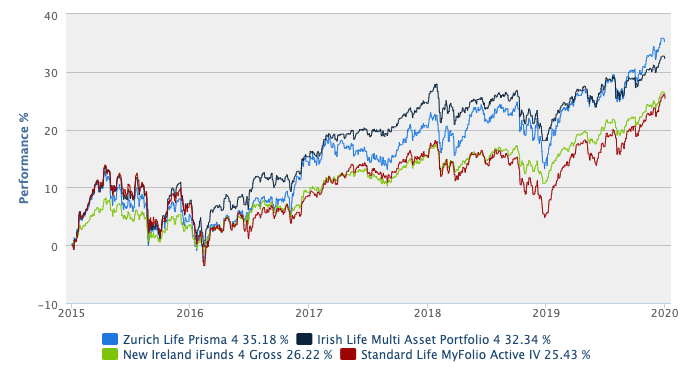 For contrast, your money in the bank has earned about 0.7% in interest during the same period.
As a runner-up, Irish Life's MAPS 4 fund is a strong performer with 32.3% growth over the same period.  But as we've explained elsewhere, it's harder to invest in it on decent terms.

Best fund for larger lump sums
If you have a lump sum of around €50,000 or higher, it's time to consider using Moneycube to build your own portfolio.
If you're willing to handle your own tax affairs, you can open a much wider world of fund options, and significantly drive down your overall cost of investing.
We generally recommend a portfolio of at least three such funds.  So it's hard to pick a single fund in this category.  But you can read about one of our favourites here.
You can read more about our approach to investing larger lump sums here.

Best investment for income
Investing for income has been a tough task in the last decade.  With interest rates stuck on the floor, you need to own company shares to have a real chance of growth to match the drawdown of income from your investments.
Aviva's High yield equity fund is invested in a focused group of around 40 solid, dividend-producing stocks from numerous sectors.
Apple – who paid the biggest dividend in the world a couple of years ago, Unilever – producer of many staple household products, and McDonalds are all core holdings.
The fund is nicely spread across the globe, and across different sectors as the chart below shows.
And if you're a more conservative investor, or are seeking a wider asset mix, you could combine this fund with a slice Aviva's government bond fund, which delivered average annual growth of 7.8% over the last decade.


Two of the best pure equity funds for long-term investors
Long-term investors can afford ride out short-term market dips.  That means they can take more risk with their money, to create the potential for better growth.  We've selected two funds to fit this bill.  One is actively managed in Dublin.  The other is a pure passive solution from global leaders Vanguard.
Index investing with Vanguard
If you simply want a slice of what is going on in companies all around the world, a ready-made portfolio from Vanguard might be for you.  Using this route, we'll help you invest into four index funds, giving you exposure to the US S&P 500, and major European, Japanese, and emerging market stocks.
It's hard to beat this approach for diversification among companies.  Taken together, this portfolio holds positions in over 2,700 companies.  And it has delivered average annual growth of 12.4% over the last ten years.
You can read all about Vanguard and index fund investing here.
Active management with Zurich International equity
Secondly, the local leader.  We continue to like Zurich's International equity fund for its flexibility, its fees, and its performance.  You can invest a lump sum, a regular direct debit, or both.  It's available via Moneycube for an annual management charge of 1.25%, including the cost of financial advice.
And it has grown steadily, particularly over the last ten years, where it has returned an average annualized rate of 12.3%.
2020 was a cracking year for this fund.  It turned in growth of 29.7%.  That's exceptional – and no-one is saying it can be repeated regularly.  But it shows the importance of keeping your money in the market to benefit from the uplift when it comes.
Zurich International equity has delivered over the long term as well.  If you'd invested in this fund ten years ago, you'd have tripled your money, as the chart below demonstrates.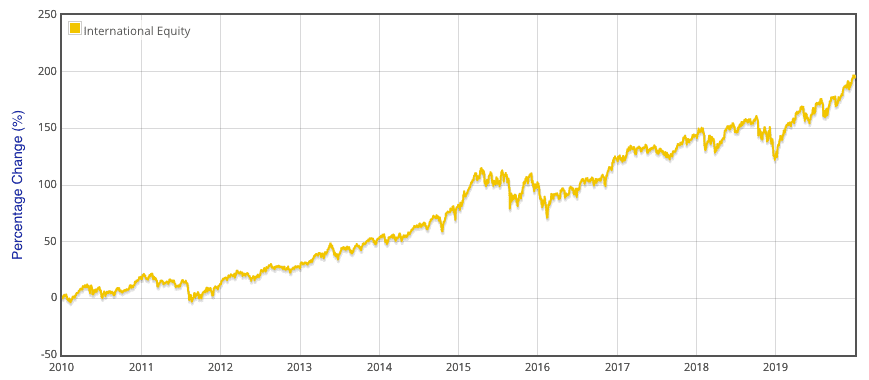 The companies in which Zurich's International equity fund is invested is a roll-call of the global businesses which have delivered strong equity returns in recent years.
Tech firms Microsoft, Apple and Amazon are its top three holdings.  And there are also substantial positions in financial, consumer and industrial businesses – overall the fund holds more than 300 stocks.

Next steps
At Moneycube, we know everyone's circumstances are different. The best investments for you right now might well be different from the funds we've highlighted above.  But with more than 4,500 funds at our fingertips, we're confident we can find a fund to suit you.
We hope these ideas will give you a starting point for investing in 2020.  Now you can get in touch, or use our online platform to design an investment plan that's right for you.[/vc_column_text][/vc_column][/vc_row]